A powerful treatment option to destroy fat, reduce inches and help you reach your body goals.
This unique technology provides patients a non-invasive body shaping solution that offers no downtime and without the complications associated with surgery.
One of the most powerful fat destruction technologies on the market to date, UltraShape Power is capable of destroying 32% of your body's fat. Treatment is extremely safe and offers minimal, if any, discomfort (Dr. Wilder actually fell asleep during her procedure!).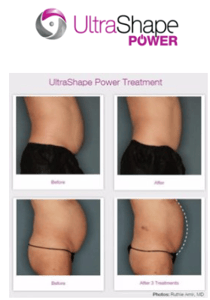 TREATMENT PLAN & RESULTS: Patients on average achieve a reduction of 3-6 cm in three treatments (that's 1-2 pant sizes!).
>LifeScape Premier is one of only a few owners of an UltraShape Power Unit in Arizona.
"I recently lost thirty pounds … but no matter how much I worked out, I still had that unattractive muffin top! UltraShape worked absolute miracles on my waistline and accomplished what all those crunches did not! I'm thrilled to say I lost an additional pants size, and can finally wear low-rise jeans. I also experienced the Venus Legacy Skin tightening on other problem areas, and the results have been terrific. Noelle is fabulous at what she does, and I highly recommend both treatments!"
– Andrea H.