During the busy work week, planning and figuring out lunches can be tricky. You want something that is easy to make and transport, that will keep you full and focused all day long.
Our October recipe is perfect to meal-prep at home and bring into the office all week for a satisfying lunch! This buckwheat noodle salad is full of nourishing veggies to help you be the best version of yourself all week long.
To learn more about how to prepare our monthly Healthy Kitchen, Healthy You dishes, tips for home cooking, and ingredient benefits, join us live in Brilliant Health for our Cooking Show on the first Thursday of each month.
Buckwheat Noodle Salad
Dressing Ingredients:
Rice vinegar 1 1⁄4 cups
Ginger, peeled, grated 1⁄2 cup
Honey or maple syrup 1⁄4 cup
Tamari, gluten free 1⁄2 cup
Sesame oil, toasted 2 Tbsp. + 2 tsp.
Sriracha sauce 2 Tbsp. + 2 tsp.
Olive oil 1 cup
Salad Ingredients:
Buckwheat noodles, cooked 48 oz.
Carrot, peeled, julienned 4 ea.
Red pepper, julienned 4 ea.
English cucumber, julienned 2 ea.
Red radishes, sliced thin 16 ea.
Green onions, sliced thin 1 bu.
Cilantro, chopped 3⁄4 cup
Romaine heads, sliced in 1⁄4" strips 8 ea.
Instructions:
For the Dressing: Whisk together the vinegar, ginger, honey, tamari, sesame oil, and chili sauce in a large bowl until combined. Slowly whisk in the olive oil until the dressing is emulsified.


For the Salad: Toss the soba noodles and romaine with the dressing.


Lightly coat carrots in olive oil and season with salt and pepper. Roast at 350°F for 10-15 minutes.


To assemble the dish, arrange the soba noodles and romaine that have been tossed with the dressing on a platter.


Garnish the salad with sliced radishes, roasted carrots, and green onions.

Cook the recipe with us!
Gather the ingredients and cook along with LifeScape Functional Dietician, Dana Bosselmann, as she creates this healthy & dish
[watch here]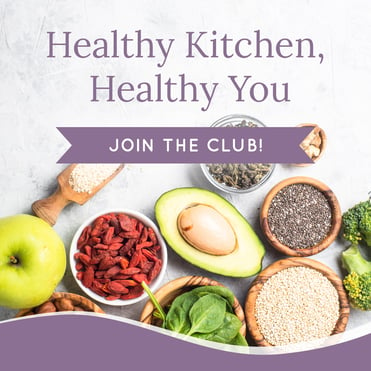 Join Healthy Kitchen, Healthy You Club, for connection, conversation, and education around healthy eating!
This virtual community, guided by LifeScape's Functional Dietitian, is focused on blending the most recent scientific guidelines into the art of making real, whole, nourishing food with joy and ease. Refine your cooking skills, discover new recipes, expand your knowledge on healthy eating and feel empowered to make simple, meaningful changes.