Entertaining in the summertime can be tough. When it's hot outside, you want a refreshing, cool meal to enjoy with your guests.
Our July recipe is the perfect side to bring to a cookout or pool party! This crisp and fresh Japanese-inspired quinoa salad with edamame will cool anyone down on a hot day. This dish features delicious bites of cucumber, avocado, lemon, and many other ingredients that will help fuel your body all day long.
To learn more about how to prepare our monthly Healthy Kitchen, Healthy You dishes, tips for home cooking, and ingredient benefits, join us live in Brilliant Health for our Cooking Show on the first Thursday of each month.
Japanese Inspired Quinoa Salad with Edamame
Makes roughly 6-8 portions
Ingredients:
Dressing
Lemon juice, freshly squeezed 3 Tbsp.
Sesame oil, toasted 1 Tbsp.
Soy sauce or tamari, reduced sodium 1 Tbsp.
Black pepper, ground as needed
Salad
Quinoa, cooked 3 cups
Lemon, zested, grated 1 ea.
Kale, curly green or Tuscan, head 1 ea.
Persian cucumber, 1⁄4" dice 1 ea.
Edamame, shelled, cooked and cooled 1 cup
Scallions, sliced 2 Tbsp.
Salt as needed
Avocado, sliced or diced 1 ea.
Furikake, or toasted sesame seeds 1⁄2 cup
Instructions:
For the Dressing: Place all dressing ingredients in a small bowl and whisk together, then set aside. Alternatively,
place into a small jar with a lid, and shake well to combine. Set aside.
For the Salad: Put cooked quinoa in a large bowl. Add dressing and lemon zest and stir to combine.
Strip kale from its center rib, then tear into bite-sized pieces or slice thinly. Use your hands to massage leaves
until tender, darker green, and glossy, 30 to 60 seconds.
Add massaged kale, cucumber, edamame, and scallions to the quinoa and stir or toss to combine. Taste and adjust
salt to taste.
Transfer salad to a serving platter, then lay the slices of

avocado on top. Scatter with furikake or toasted sesame

seeds.

Notes: Toasted sesame oil is the sesame oil sold in Asian groceries or in the Asian section of supermarkets. Do not
use untoasted sesame oil (different flavor). Reduced sodium versions of soy sauce and tamari (which is gluten-free) is still high in sodium. May substitute 1⁄4 of an English cucumber for 1 Persian cucumber. Variation: May substitute other greens, if desired. If using baby greens, such as arugula, baby kale, or baby spinach, do not massage.



Cook the recipe with us!
Gather the ingredients and cook along with LifeScape Functional Dietician, Dana Bosselmann, as she creates this healthy & dish
[watch here]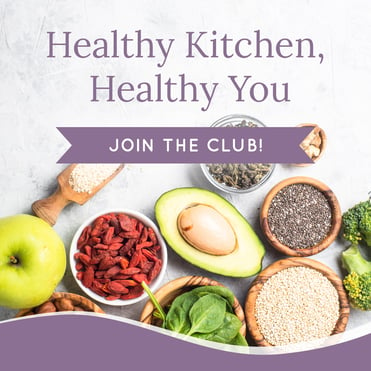 Join Healthy Kitchen, Healthy You Club, for connection, conversation, and education around healthy eating!
This virtual community, guided by LifeScape's Functional Dietitian, is focused on blending the most recent scientific guidelines into the art of making real, whole, nourishing food with joy and ease. Refine your cooking skills, discover new recipes, expand your knowledge of healthy eating, and feel empowered to make simple, meaningful changes.