Getting in enough protein every day can be difficult, especially if you are vegetarian, or trying to limit your meat and fish consumption.
Beans and lentils are a great and tasty way to load up your body with nourishing protein! This recipe is a chickpea and black bean jewel salad that is easy to make! This salad will have your mouth watering with all of its fresh flavors from different herbs like mint and cilantro.
To learn more about how to prepare our monthly Healthy Kitchen, Healthy You dishes, tips for home cooking, and ingredient benefits, join us live in Brilliant Health for our Cooking Show on the first Thursday of each month.
Chickpea and Black Bean Jewel Salad
Makes roughly 6-8 portions
Ingredients:
Water 2 cups
Salt 1⁄2 tsp., plus more to taste
Cilantro, fresh, minced 1⁄2 cup
Mint, fresh, chopped 1⁄2 cup
Green onions, whites, thinly sliced 1 cup (about 2 bunches)
Green onions, greens, chopped 1⁄4 cup
Black beans, cooked, or canned, 15 1⁄2 oz. drained and rinsed
Chickpeas, cooked, or canned, 15 1⁄2 oz. drained and rinsed
Red or yellow bell pepper, chopped 1 ea. into 1⁄2" squares
Cherry tomatoes, quartered 3 cups
Persian cucumber, chopped into 1⁄2" squares 1 ea.
Nuts, toasted and roughly broken 1⁄2 cup
Lemon juice 1⁄4 cup, plus additional as needed
Cumin seeds, lightly toasted, ground 1⁄2 tsp., plus additional as needed
Garam masala 1⁄4 tsp.
Extra-virgin olive oil 6 Tbsp.
Instructions:
Heat a medium-size heavy saucepan over medium-high heat and add freekeh. Toast in the dry pan, shaking or
stirring, until freekeh becomes fragrant, 2 to 3 minutes.


Add 2 cups of water and salt and bring to a boil.


Reduce heat to low, cover and simmer, 20-25 minutes or until water has been absorbed.


Turn off heat and uncover. Place a clean dish towel or paper towel over the pot and return lid. Let sit at least
10 minutes. Uncover an allow freekeh to cool another 10 minutes.


In a large bowl, combine freekeh, with all other ingredients. Taste and add more lemon juice if desired.


Serve right away or let sit for up to 1 hour before serving.

Cook the recipe with us!
Gather the ingredients and cook along with LifeScape Functional Dietician, Dana Bosselmann, as she creates this healthy & dish
[watch here]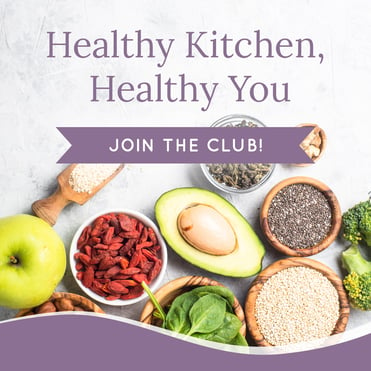 Join Healthy Kitchen, Healthy You Club, for connection, conversation, and education around healthy eating!
This virtual community, guided by LifeScape's Functional Dietitian, is focused on blending the most recent scientific guidelines into the art of making real, whole, nourishing food with joy and ease. Refine your cooking skills, discover new recipes, expand your knowledge of healthy eating, and feel empowered to make simple, meaningful changes.